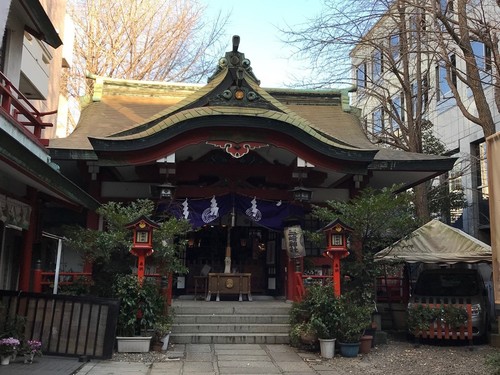 Misaki-inari Shrine is found quite close by Suido-bashi Station of JR Sobu-line. Not a large-scale building though, this is one of the oldest Shinto shrines in Tokyo. It is said that this shrine was originally built east of present Tokyo Dome in 1182 as a local tutelary of this vicinity. The Tokugawa Shogunate started in Tokyo at the beginning of the 17th century, then this vicinity had been largely developed through those years. For this reason, Misaki-inari Shrine was compelled to be relocated several times, and was finally moved to the present site in 1905. Looking back to the Edo Period, when *sankin-kotai system was in operation, all the feudal lords out of Edo, present Tokyo, necessarily visited this shrine for purification before their formal greetings to Shogun. This shrine became to be believed as a god for safe travel.
*Sankin-kotai : All the feudal lords or their wives and children had to live in Edo, apart from their domain, every other year.
Licensed tour guide/travel consultant,
Masahisa Takaki.