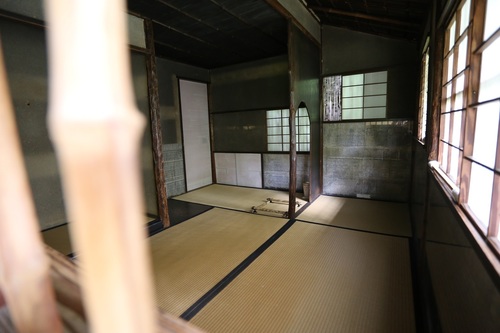 Old tea house Joan, gracefully standing in 'Urakuen' Japanese garden near Nagoya City, was originally built in Kyoto at the beginning of the 17th century. This tea house was initially for the treat of 'Oda Urakusai', who was one of the greatest masters of tea ceremony, and was used for his private purposes. However it was relocated here in Urakuen garden in 1972. This Japanese garden, which is opened to the public, is very well maintained to realize perfect surroundings harmonized with this precious tea house.
It's essential to offer an extraordinary experience to tea ceremony attendees. There are three great tea houses designated as a national treasure in Japan. This Jo-an aside, 'Tai-an' and 'Mitsu-an-seki' in Kyoto. The former was designed by 'Sen-no-Rikyu' and the latter was by 'Kobori Enshu', both of them are tea ceremony giants. The two pictureS show the exterior as well as interior of this prestigious tea house.
Licensed tour guide/travel consultant,
Masahisa Takaki.