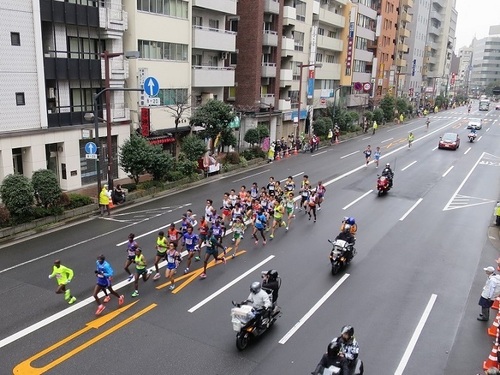 Once, there were three big marathon events in Tokyo, Tokyo International Marathon and Tokyo International Women's Marathon for elite runners, and Tokyo City Road Race for a citizen as well as handicapped person. These three marathons were combined into Tokyo Marathon in 2007, as one of the largest marathons in the world. The course is from Tokyo Metroporitan Government Building in Shinjuku to Tokyo Big Site in Ariake, Koto-ku, by way of well-known sightseeing spots in Tokyo, such as the Imperial Palace, Ginza and Asakusa. More than 30 thousand runners attend this big race. World's top-ranking runners, inside and outside the country, are invited to this race as shown in the first picture. As shown in the second picture, citizen runners, regardless of nationality, are chosen by lottery though, the competition rate has become higher from year to year. The latest rate was higher than 10 times.
In this connection, anyone can attend this race if he or she donates more than 100 thousand yen to the authority.
Licensed tour guide/travel consultant,
Masahisa Takaki.