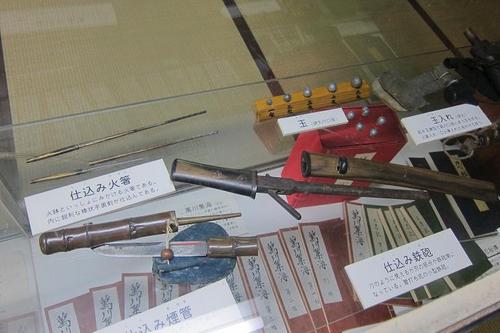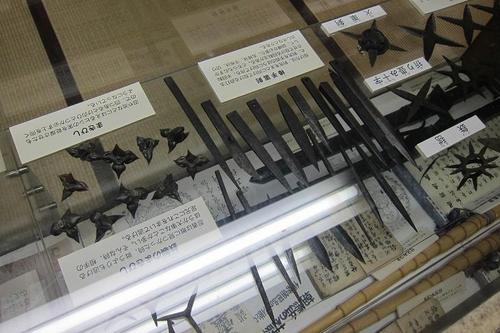 A group of 'ninja', who operated behind the scenes from the 15th to 18th century, engaged in espionage activities for their feudal lord while being in farming in their own communities across Japan. They usually received hard training for their special mission, at the same time they were developing necessary weapons and gadgets.
Some of these weapons are introduced as follows..
The first picture shows 'shikomi-hibashi', 'shikomi-kiseru' and 'shikomi-teppo', which literally mean a pair of picks disguised as tongs, a short sword camouflaged as a tobacco pipe and a pistol seems to be a sword at a glance.
In the second picture, from left to right they are dried water chestnuts, throwing knives and throwing stars. The first ones were scattered on the road so as to keep enemies from chasing when 'ninja' ran away. The two types of throwing objects were thrown at the enemy's eye, throat or forehead and these were well tempered to be blackened. It may be difficult for the enemy to dodge the black objects in the night.
Licensed tour guide/travel assistant,
Masahisa Takaki.