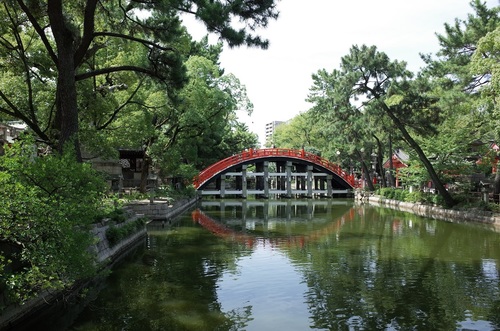 The history of Sumiyoshi Taisha is very rich. The reason is, it used to be a guardian god for the ancient 'Yamato' state for the sake of the successful diplomacy and safe voyage mainly for the envoy to China in the 7th-10th century.
The second picture shows 'Taiko-bashi' bridge also known as 'Sori-bashi' bridge leading to the main grounds of this shrine. This unique shape is likened to a rainbow, which is thought to connect this world with heaven. On the main grounds,, there stand four main shrines all designated as national treasures, as shown in the first picture. These main shrines are uniquely laid out like a fleet of vessels crossing the great ocean. The architectural style of these old buildings is called 'Sumiyoshi- zukuri', and is one of the oldest styles of Shinto shrines in Japan.
Licensed tour guide/travel consultant,
Masahisa Takaki.