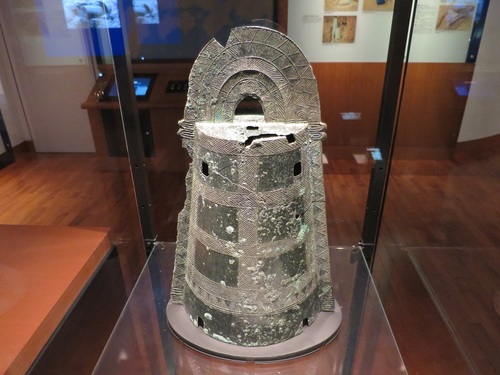 An old document, reading "a strange ware was dug out", proved that the first dotaku was excurvated in present Shiga Prefecture near Kyoto in the year of 668. About 500 dotakus have been found, mostly in Western Japan, since then. The size of them had gradually became larger, from 12cm to 144cm in height during 400 years.
In addition, the use of them were supposed to be changed from handbells with strap to decorative ornaments. Nobody knows why, but the production of dotakus suddenly concluded in 200A.D.. Unlike stonewares, earthenwares and the other bronzewares, dotakus have never been excurvated near habitation sites or ancient mounds, but in most cases at the foot of hills far from houses. It is interesting too, that the days when they were intentionally planted were only in the beginning of A.D. and 200A.D.. Many specialists from various fields have claimed their theories about the use and historical background of dotakus though, nobody can reach the right answer yet.
Lisenced tour guide/travel assistant,
Masahisa Takaki.