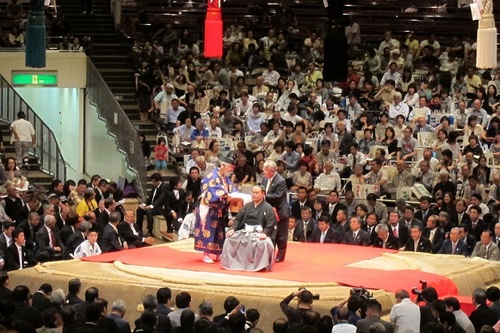 Regardress of the rank of sumo wrestler, he performs danpatsushiki without exception, when retiring from active play. Only a higher-ranking wrestler, whose ex-rank was above 'sekitori', is alllowed to do so in the sumo ring of 'Ryogoku Kokugikan' sumo arena, Tokyo.
A retired wrestler, sitting on a chair in the ring, has his topknot cut inch by inch by his family members, patrons and friends. The topknot is finally cut off by his 'oyakata' stable master. As in the ring is traditionally off limits area for women, even the mother or wife of the retired wrestler can't cut the topknot in the ring.
Most wrestlers can't keep the tears from coming to their eyes on that occasion, in that this ceremony means the last of their long and hard sumo life.
Licensed tour guide/travel assistant,
Masahisa Takaki.
通訳案内士 高木聖久