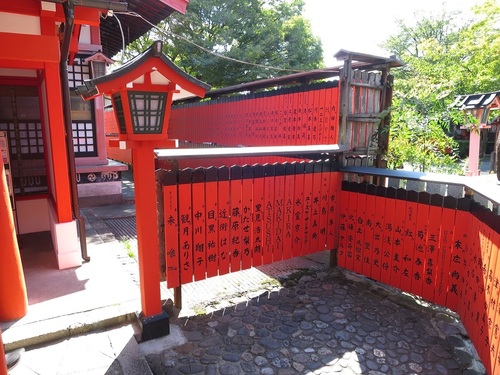 Taking a streetcar for 3 minutes from Arashiyama, known for Togetsu Bridge, Kurumazaki Shrine is found. The deity of one of the affiliate shrines standing in this grounds is worshipped by many celebrities in the field of show business and art. The first picture shows the red wooden boards offered by many show-business personalities, the stage names or pen names of them are written on them. More than 2,000 boards are dedicated here, and they are still increasing every year.
Ardent fans, doing photo sessions in front of their favorite stars, are occasionally found. In addition, this shrine also features 'Kinen Shinseki' sacred stone which grants believers' wishes. This is a kind of good-luck charm though, the people having Kinen Shinseki, whose wishes came through, have to dedicate a nearby flat stone with words of gratitude to this shrine as shown in the second picture.
Licensed tour guide/travel consultant,
Masahisa Takaki.
通訳案内士 高木聖久。