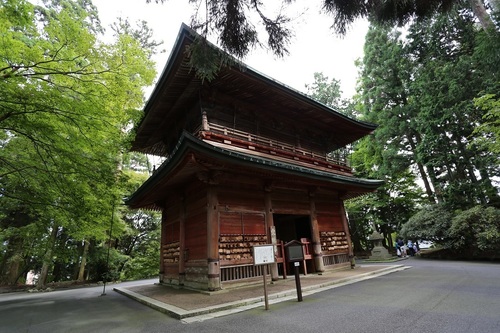 The precincts of this temple spreads all over 'Hieizan' mountain, 848 meters high above sea level, standing northwest of Kyoto. Being built by a famous priest 'Saicho', who was a founder of the 'Tendai Sect' Buddhism, late in the 8th century, this temple was made up of more than 3,000 buildings in the golden age. As a central educational institution of Japanese Buddhism from the 10th to 13th century, many brilliant Buddhist monks studied here. 'Honen' the founder of the 'Jodo Sect', 'Eisai' the 'Rinzai Sect', 'Dogen' the 'Soto Sect', 'Shinran' the 'Jodo-Shin Sect', 'Nichiren' the 'Nichiren Sect' and other giants trained themselves in Buddhist ascetic practices. All these sects have been deeply rooted in Japanese Buddhism now. On the other hand, this great temple also has a history as an armed temple. As the strongest religious power with thousands of monk soldiers, this had fought against the political powers for some hundreds of years. This was like an independent state within Japan.
However, this temple was beaten in a battle against a samurai government late in the 16th century. Most buildings were destroyed during this battle. The majority of the present buildings were reconstructed in the 16th-17th century. The picture shows 'Monjuro' gate of 'Konpon Chudo' main hall. This gate was reconstructed late in the 17th century.
Licensed tour guide/travel consultant,
Masahisa Takaki.