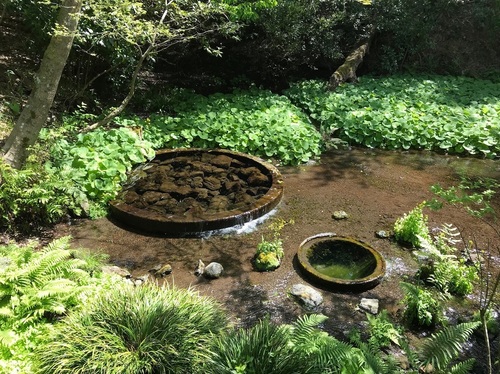 Japan's tallest peak Mt. Fuji is a conical volcano, so the meltwater and rainwater sinking into the mountain gush out on the surroundings after 20-30 years. Kakitagawa spring group is the largest among them, with 100 tons of discharge a day, which is on a world-wide level. The spring water through the huge natural filter boasts of outstanding transparency and is the best drinking water. The temperature of it is stable all the year, 15-18 degrees. This spring water forms Kakitagawa river 1.2 km in length, which is one of the shortest rivers in Japan and joins other river to flow into the Pacific Ocean. An esplanade over the springs is well developed.
The picture shows one of the places where the springs are gushing out. Two circles, big and small, are the traces of water intake pipes for a bygone factory.
Licensed tour guide/travel consultant,
Masahisa Takaki.

【Suburbs of Tokyoの最新記事】