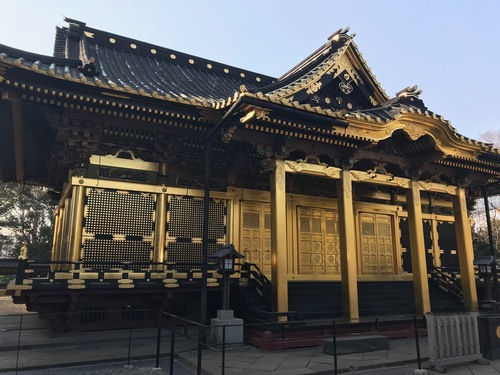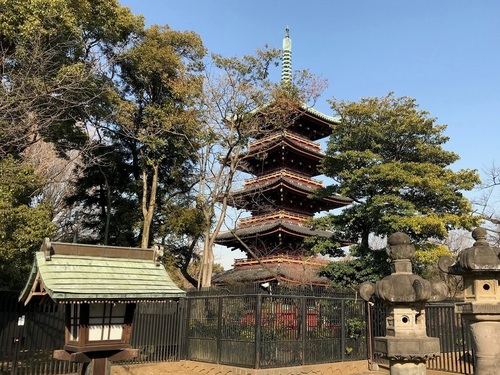 This Shinto shrine was built by 'Todo Taketora', who was a faithful retainer of 'Tokugawa Ieyasu (the first Tokugawa shogun)' and was also known as an expert in the art of castle-building, in his mansion grounds in 1627. The original main building was largely rebuilt by 'Tokugawa Iemitsu (the third Tokugawa shogun)' in 1651, as shown in the first picture.
Tokyo was entirely destroyed by the Great Kanto Earthquake in 1923 and the fierce air-raid during the Second World War, however this building fortunately survived them. It's not a large building though, the exterior with gold leaves is amazing, and three successive Tokugawa shoguns, Ieyasu, Iemitsu and Yoshinobu, are enshrined here. The second picture shows the adjacent five-storied pagoda of 'Ueno Kan-eiji' Buddhist temple, which was originally built for this Shinto shrine in 1639. This pagoda is the original building too.
In this connection, I may add that the fire from the burning houses of Hiroshima, ignited by the atomic bombing, was brought here to remind many people of the nuclear disaster at the last days of the Second World War.
Licensed tour guide/travel consultant,
Masahisa Takaki.

【Tokyo-shrines and templesの最新記事】