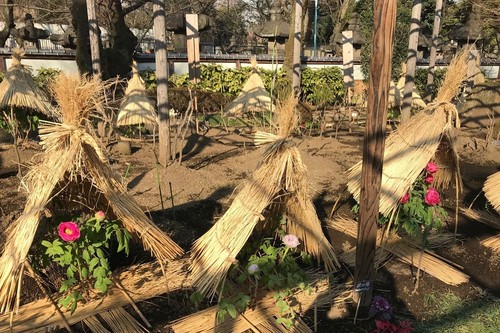 Peonies originally came from China, and were introduced into Japan as medicine in the 9th century. A variety of improvements have been adapted since the 17th century, thanks to the increasing popularity for decorative purpose. Being loved by Japanese people as a symbol of 'Wealth and Honor', they are also used as the subject matter of a painting, pattern and family crest. Peonies generally bloom in spring though, the special ones, carefully cultivated to add colors during the New Year holidays, are called Fuyu Botan, winter peony.
It's hard to see flowers in midwinter.
Ueno peony garden in the grounds of 'Ueno Toshogu Shrine', Tokyo, is one of the many peony gardens in Japan. There are about 200 winter peony trees, which are brought to bloom forward. This garden was built to commemorate the friendship between Japan and China, in 1980. More than 500 different peony trees, which are from China, the USA and France, are planted here.
Licensed tour guide/travel consultant,
Masahisa Takaki