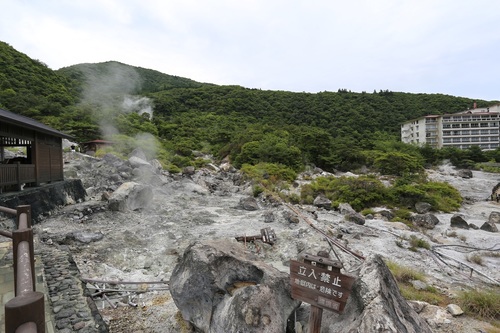 Unzen Onsen hot spring resort is one of the first national parks in Japan, which was designated in 1934 together with two other ones. The origin of this resort dates back to the end of the 17th century, when the first feudal lord of the Shimabara domain built a 'ryokan' with hot spring baths in this area.
*As a passing reference, this ryokan is still running after ups and downs by the name of 'Unzen Yumoto Hotel'.
After the middle of the 19th century, when Japan's modernization had just started, Unzen Onsen was thronged with many Westerners from the International Settlement in Shanghai, China. Present 'Unzen Kanko Hotel', built in the first half of the 20th century, is a Western style classic hotel to accommodate these Westerners. The area called 'Jigoku' inferno, where volcanic steam is gushing out everywhere, offers typical volcanic scenery to the sightseers walking along the promenade. (As shown in the first picture)
This volcanic area has gradually moved little by little, so the extinct volcanic area had changed to the wetlands for rare insects and plants. (As shown in the second picture)
Licensed tour guide/travel consultant,
Masahisa Takaki.