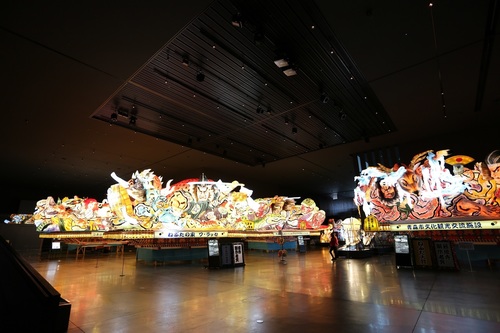 As shown in the picture, Aomori Nebuta festival featuring powerful and colorful floats is widely known throughout Japan. There are many theories about the origin of this festival though, it seems to be a derivative of 'Tanabata' star festival found everywhere in Japan. However the design of the floats and the musical accompaniment of this festival are very different from other summer festivals. Thus, it can't be denied that Aomori Nebuta has something to do with the repeated fierce battles in the 9th century, between the Imperial Court in Kyoto and the 'Ainu' native Japanese who used to live in this district. The floats had gradually become bigger with more decorative design as there was no size limitation, but now the size of them are restricted to under 9 meters long, 5
meters high and 7 meters wide. There are three types of Nebuta floats, sponsored by big companies, big organizations and the neighborhoods. 15 nebuta artists, who are called 'nebutashi', make their unique nebuta floats every year to entertain the sightseers.
Licensed tour guide/travel consultant,
Masahisa Takaki.

【Japanese festivalsの最新記事】