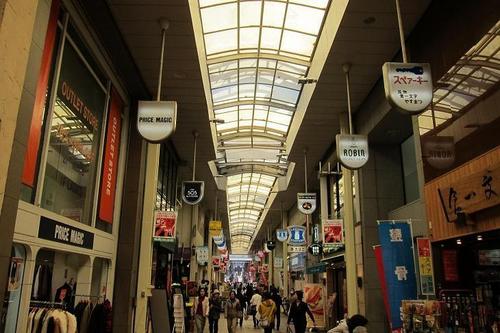 There were a number of shopping arcades in the commercial districts of major cities in Japan, in the Edo period in the 17th-19th century. These arcades were covered with the townhouse's extended eaves only on the street side. In the snowy provinces, similar arcades called 'gangi-zukuri' were used for the local pedestrians in winter with deep snow.
The present shopping arcades with transparent canopies, which are found in the suburbs of Tokyo and mainly in Western Japan, originated from 'Takegawara Shoji Arcade' in Beppu City, Oita Prefecture, built in 1921. This arcade is small though, was designated as the Heritage of Industrial Modernization. The picture shows a typical shopping arcade named 'Uomachi Gintengai' in Kokura-kita Ward, Kitakyushu City, Fukuoka Prefecture, which is the first fulll-fledged shopping arcade along public roads covered with canopies, built in 1951.
Most shopping arcades have been built since the end of the Second World War, however the number of them are decreasing going with the deterioration and the increasing number of vacant shops.
Licensed tour guide/travel consultant,
Masahisa Takaki.