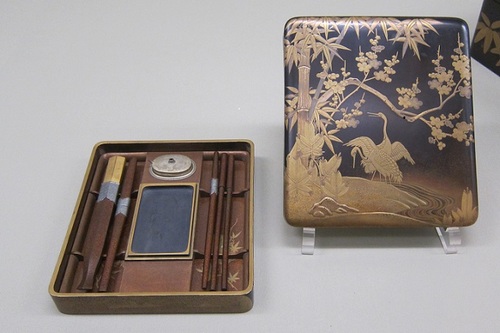 In Japan, a writing brush and Indian ink have been used to write characters as well as to draw a picture since the 8th century. A pencil and fountain pen have been prevailing writing tools since the 19th century, however the writing brush is still used for the signature for a formal document. In other words, the writing brush and Indian ink have long been traditional Japanese writing tools for more than 1,300 years. These writing tools in a suzuribako were personal belongings put close at hand, accordingly the suzuribako gradually became a work of art with fine decoration mainly for the upper class. Particularly after the beginning of the 10th century, when the first decorative suzuribako appeared, many master craftsmen elaborated beautiful masterpieces representing each era.
The suzuribako in the picture is an example of them.
'Makie', which is a kind of lacquer art, on the lid is very much bewitching us.
Licensed tour guide/travel assistant,
Masahisa Takaki.

【Japanese artworksの最新記事】