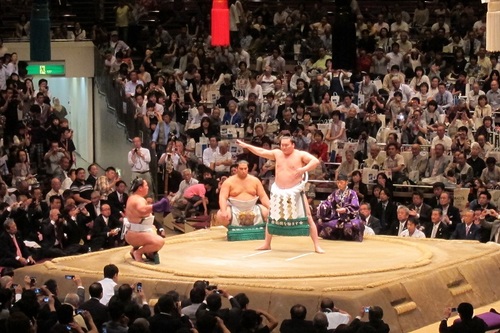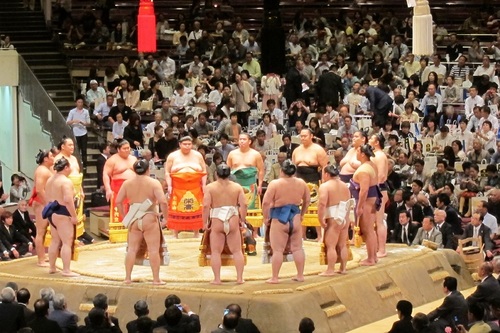 Dohyoiri is usually performed by 'yokozuna' grand champions, 'makuuchi' senior grade sumo wrestlers and 'juryo' junior-grade wrestlers respectively, before the bouts of each grade start. Juryo's dohyoiri starts at around 2:30pm, while makuuchi's and yokozuna's at 4:00pm, so these dohyoiri performances can be seen during six regular tournaments. As the number of wrestlers were even smaller than now, every wrestler performed dohyoiri as yokozuna did, however today's dohyoiri is reduced to a simpler form with the exception of yokozuna's performance.
The first picture shows yokozuna's dohyoiri with a sword bearer and herald, which features the formal beauty of two styles, 'unryu' and 'shiranui', having long been carried on. The many wrestlers with ceremonial apron in the second picture are performing makuuchi's dohyoiri. All senior-grade wrestlers get together in the ring to carry out the special movement such as clapping their hands, which is an abbreviation of traditional form from the 17th century. This performance has become a public appearance rather than a ritual or ceremony.
Licensed tour guide/travel assistant,
Masahisa Takaki.
通訳案内士 高木聖久