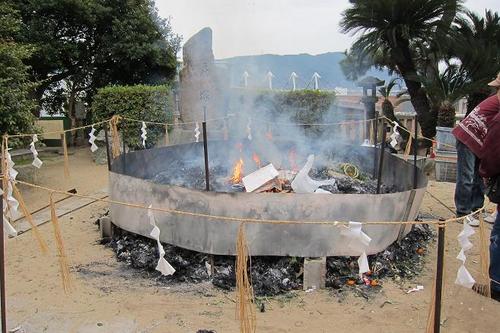 Many Japanese people bring their own New Year's decorations such as pine branches, bamboos and straw wreaths, the first calligraphy of the year and old good-luck charms into neighboring Shinto shrines, rice fields in which the harvesting was over or vacant lots.
They make a bonfire with them on the 15th of January, when 'ko-shougatsu' the lunar New Year is corresponding.
The flames of a fire are thought to have a mysterious power to expel evil spirits and stimulate the locals life force, in the world of Shintoism that is Japan's native religion. In addition, this rite involves many spirits which dwelled in the New Year's decorations during the New Year holidays, going back to heaven with the rising smoke.
Originally observed in the rice paddies by the children of each area, the place has been gradually changed to the local Shinto shrines and vacant lots of residential areas in line with the urbanization and the smaller number of children in Japan.
Posted by licensed tour guide/travel assistant,
Masahisa Takaki.

【Japanese festivalsの最新記事】