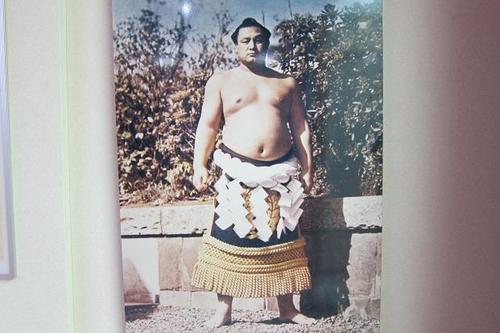 'Futabayama', born in a family running a small shipping business in Usa, Oita Prefecture shown in the second picture, was not such a remarkable wrestler until he moved up to 'komusubi' the fourth highest rank sumo wrestler in 1935.
The pictures show him in a standing position and the house he was born.
He broke the record of 63 consecutive victories held by 'Tanikaze' after an interval of 150 years and finally got the new record of a 69 winning streak in 1939. Since then, this great record has not been beaten by any wrestlers.
Yokozuna Hakuho's 63 winning streak record in 2010 fell short of Futabayama's record by a narrow margin.
In this connection, the official sumo tournament in Futabayama's day was held two times a year, while today five times a year, that is, Futabayama had never lost for three years long. 
He retired from the ring in 1945, the year of the end of the second World War,to establish 'Tokitsukaze' sumo stable to train many promising wrestlers.
He devoted himself to the modernization of the sumo world as a chairperson of the Sumo Association.
He deserves to be called the pinnacle in the sumo wrestlers.
Licensed tour guide/travel assistant,
Masahisa Takaki.