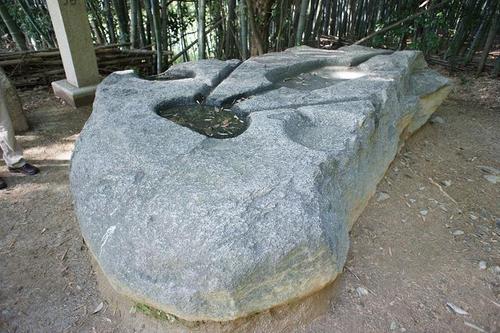 'Sakafune-ishi' remains are found around the hill located in the west of 'Asuka-itabuki-no-miya', where the ancient Imperial Palace of the Emperor Kogyoku once stood in the 7th century. The granite stone in the picture above with the dimensions of 5.5m long, 2.3m wide and 1.0m thick, that is situated at the hilltop, is thought to have been larger than now because many traces of the chisel in the Middle Ages are found on both sides of it. People in those days were likely to cut the big stone into smaller pieces. Some of these pieces are actually discovered among the stone materials for the wall of nearby Takatori-jo castle built in the 14th century.
What the mysterious pattern engraved on the stone means has been studied in vain since the 17th century.
The stone structure in the picture below was discovered by the excavation research in 2000. Two stone tanks in the center, tortoise-shaped and coin-shaped stones, are regarded as the instruments used for water-related ritual and the construction of this entire structure was described in 'Nihon-shoki' Chronicles of Japan compiled in the 8th century.
Licensed tour guide/travel assistant,
Masahisa Takaki.