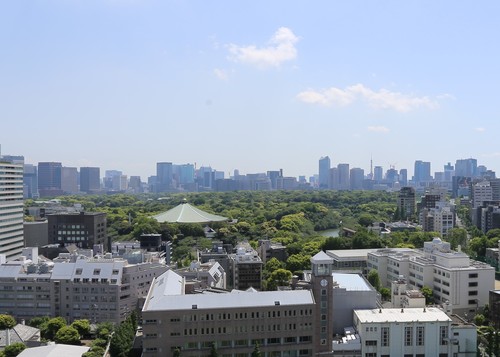 'Tokugawa Ieyasu', who unified Japan by force of arms, started to build a huge castle also as a central government building in Edo present Tokyo, in 1603. Edo was a small village before this castle construction. Kyoto, where the successive emperors had long lived, formally was the capital though, Edo had gradually developed as the de facto capital of Japan since.
Right after the end of the feudal years ruled by successive Tokugawa shoguns, the new government rapidly advanced modernization following the advanced countries. The emperor in Kyoto moved to Edo and the city name was changed to Tokyo meaning eastern capital. Present Imperial Palace is inside the inner moat of Edo Castle, a part of which is opened to the public. This part named 'Imperial Palace East Garden' includes the most important as well as historical part of Edo Castle, such as 'Otemon' main gate and stone base of the main building. The major part of the Imperial Palace, where the Emperor and Empress live, is not opened to the public though, 'Nijubashi' bridges which is the formal gate of the Palace can be seen from the outside.
The picture shows the entire view of the Imperial Palace, the total area of which is almost half Central Park in New York.
Licensed tour guide/travel consultant,
Masahisa Takaki.