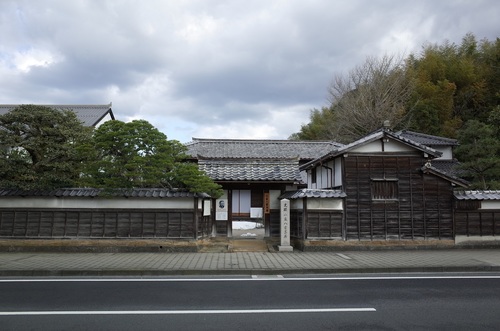 An old castle town 'Matsue' is a small city with a peaceful townscape. This city features 'Matsuba-gani' snow crab in winter and 'Izumo-soba' noodles all the year, which has put this city on the map as a gourmet city. As this city didn't suffer air raids at all during the Second World War, old townscapes are found everywhere. The first picture shows one of the examples called 'Shiomi-nawate', where the old houses of the middle-ranking samurai stand on the street 800 meters in length. Two houses are opened to the public now. One is a typical samurai house with a big gate called '*nagaya-mon', and the other one is the former house of 'Koizumi Yakumo', who was a well-known literary giant.
*Nagaya-mon is a gate building complex, which means a small house for a security guard and a firm gate are combined into one.
The second picture shows the exterior of Koizumi Yakumo's former house. He, a naturalized Japanese from Greece, lived here for one year at the end of the 19th century while working as an English teacher.
Licensed tour guide/travel consultant,
Masahisa Takaki.